Features
● Patent Male-female linkable design
● Seamless & No Dark in-line connection
● UL ETL TUV SAA CE approved, DLC Listed
● 0.8mm aluminum housing for excellent heat dissipation
● Heat protection system,with excellent internal driver
● Easy replacement and installation with brackets

Applications
● Replaces t8 fluorescent fixtures
● Warehouses, factories & food storage
● Car parks & sports facilities, Kitchens
● Supermarkets,Office,Hotel,shopping malls etc

Technical Specifications
● Input Voltage: Isolated Driver
AC100-277V 50/60Hz
AC100-240V 50/60Hz
● Total harmonic distortion: THD<19%
● Power Factor: PF>0.95
● Efficiency: 110-130LM/W
● Color Index: Ra>82
● IP Rating: IP40
● Life Span: 50,000 hours
● Switching Time: 100,000
● Operation Temperature: -20°C ~ +50°C
| | | | | | | | | |
| --- | --- | --- | --- | --- | --- | --- | --- | --- |
| Item No. | Length | Power | LED type | LED QTY | Power Factor | Luminous flux(LM) | CRI | Package |
| LY-T8DL600-9W | 2ft/600mm | 9w | SMD2835 | 52pcs | PF>0.95 | 990-1170lm | >80 | 725*240*205mm;20pcs/ctn |
| LY-T8DL900-13W | 3ft/900mm | 13w | SMD2835 | 84pcs | PF>0.95 | 1430-1690lm | >82 | 1035*240*205mm;20pcs/ctn |
| LY-T8DL1200-18W | 4ft/1200mm | 18w | SMD2835 | 108pcs | PF>0.95 | 1980-2340lm | >82 | 1335*240*205mm;20pcs/ctn |
| LY-T8DL1200-22W | 4ft/1200mm | 22w | SMD2835 | 120pcs | PF>0.95 | 2420-2340lm | >82 | 1335*240*205mm;20pcs/ctn |
| LY-T8DL1500-25W | 5ft/1500mm | 25w | SMD2835 | 144pcs | PF>0.95 | 2640-2860lm | >82 | 1640*240*205mm;20pcs/ctn |
| LY-T8DL1800-30W | 6ft/1800mm | 30w | SMD2835 | 168pcs | PF>0.95 | 3300-3900lm | >82 | 1900*240*205mm; 20pcs/ctn |
| LY-T8DL2400-36W | 8ft/2400mm | 36w | SMD2835 | 216pcs | PF>0.95 | 3960-4680lm | >82 | 2525*165*180mm;9pcs/ctn |
| LY-T8DL2400-44W | 8ft/2400mm | 44w | SMD2835 | 288pcs | PF>0.95 | 4840-5720lm | >82 | 2525*165*180mm;9pcs/ctn |
Please be noted that Not all products are qualified on the DLC QPL. To view our DLC qualified products,please consult the DLC qualified Products List at www.designlights.org/search.
Option
-Fuctions: Normal / Triac Dimmable / ON-OFF Switch
-Connection Way: Lead in wire / M-F Connection / Power on back wiring
-Installation Type : Standard Clip / Magnetic Clip / Suspending Kits


Product line drawing                  Light distribution curve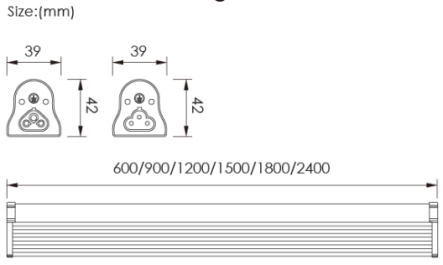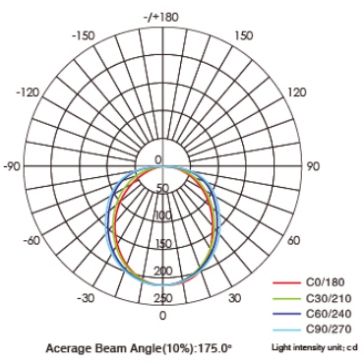 Standard Accessories

Length for power cord or connection cable can be customized.